MAKING FACTS & FIGURES FASCTINATING - OPEN WORKSHOP 18TH & 19TH MARCH. NOW AVAILABLE TO BOOK. MORE INFO HERE
A practical presentation skills training workshop designed for anyone who wants to present facts, figures and data in a more engaging, absorbing and entertaining way.
MAKING FACTS AND FIGURES FASCINATING is practical presentation skills workshop is designed for anyone who struggles to connect with their audience as a result of having to communicate large volumes of facts, figures and data. Too often these data-driven presentations can alienate audiences – leaving them overwhelmed, confused, disconnected or just plain bored.
However; by applying proven storytelling and presentation techniques - even the most-dense, data-driven presentations can be made absorbing, entertaining and engaging. "Making Facts & Figures Fascinating" allows you to connect with your audience with greater impact than ever before by utilising preparation and performance techniques which facilitate a greater level of interest, engagement and understanding from your audience.
During the workshop, we explore the concepts of intrigue, curiosity, and suspense, and work through three clear presentation structures which have been proven to enhance audience engagement. Through a variety of practical exercises, participants will be invited to re-organise the information in their presentations according to these 3 different structures, with each structure bringing a different flavour and approach – allowing the presenter to change up their presenting style to suit any audience, message or purpose.
Learning Outcomes
Participants on this workshop will:
Feel confident that they can make any presentation which is rich in facts and figures, fascinating.
Explore the importance of using proven, pre-existing structures to drive maximum message impact.
Learn how to order information so that it can be best absorbed by any audience.
Learn presentation techniques that make data irresistible.
Understand the power of "The Edit".
Learn how to use facts and figures to awaken curiosity in the audience.
Understand the relationship between Form & Content.
Understand the role of the Body, Breath and Voice plays when presenting facts and figures.
ANDREW TIDMARSH
The workshop is designed and delivered by Andrew Tidmarsh, one of the UK's leading Voice and Communications consultants having previously worked as course director of both RADA's Foundation Course and Drama Centre London's MA in European Classical Acting - along with working as an Associate Teacher for RADA and as a Tutor on the MA in Playwriting at Goldsmiths, University of London.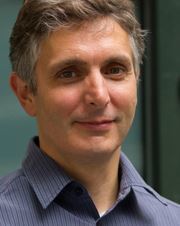 Andrew has taught acting for dancers at the English National Ballet, text, voice and scene study at Shakespeare's Globe and rehearsal processes and techniques for TV and film at Wimbledon Theatre. He holds a BA (Hons) in English and German and an MA in Text and Performance Studies (with distinction) from King's College London and RADA.
Andrew's communications skills training for business includes presentation coaching for Deutsche Bank's equity derivatives department and AMV BBDO Ltd; leading extended courses in the Middle East; and regularly coaching executives at Ted Baker, preparing them to present new lines of clothing to the rest of the company. He also works with numerous pharmaceutical, energy and media clients.
Andrew is an established, award winning director of theatre and short films, as well as a published writer. His books include An Attitude for Acting: How to Survive and Thrive as an Actor (written with Dr Tara Swart) and Genre: Guide to Writing for Stage and Screen.