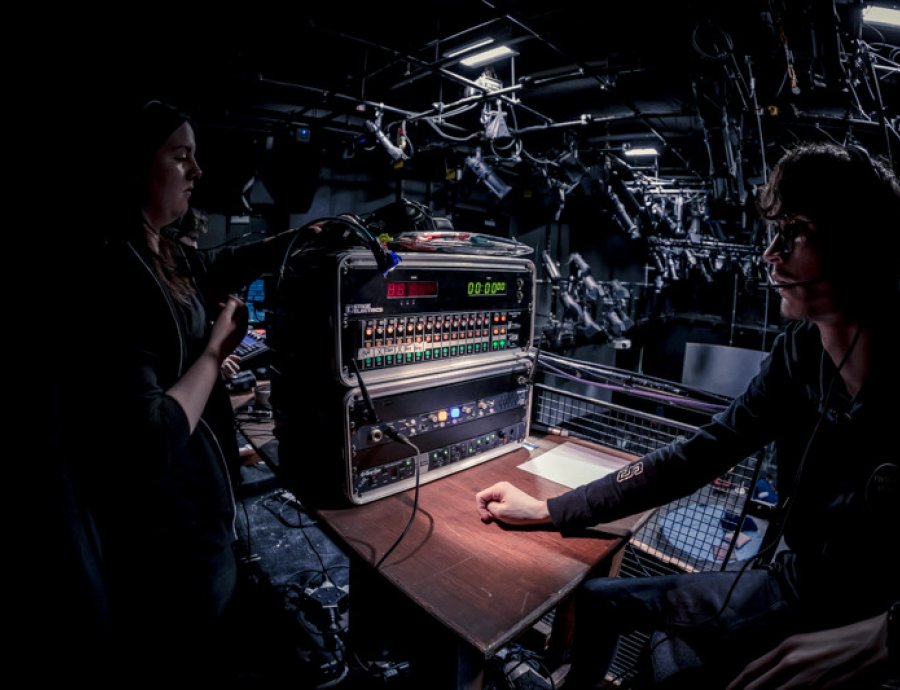 Short Courses / Technical
Technology and the Stage
2 days
Exploring stage technologies, lighting and sound. See more details and our Covid-19 protocol below.
Course Information
Course Begins:
Sat 17 Jul 2021
Duration:
2 days
When:
Weekends
Ages:
16+
Questions?
If you have any further questions, enquire and we'll contact you.
Overview
Day One - Lighting
During this workshop we aim to offer an overview of lighting in a theatrical setting and examine the value and uses of lighting design as an important element of theatre production. By examining the aims of lighting design, as well as all the basic tools available to us, we take lighting from observation, to a 'how to' guide to basic lighting for theatre production. The course includes - instrument introduction, with hands on experience of rigging and focusing each lamp; use of the ETC control system to patch and create different looks (cues); choosing angles for lighting to greatest effect; looking at how to use colour; and a look at the development of a lighting design from script to stage.
By the end of the day we'll be focusing lights on a basic set, and plotting lighting states that can move fluidly from one mood to another.
There will be a short scene as prescribed reading for this course, to be advised in advance.
The course is a combination of presentation based learning and hands on experience of working with lighting equipment.
Day Two - Sound Design
This course takes you through how to create a Sound Design for a Theatre production. It will look at examples of Sound Designs in shows and explain the process of producing, editing and assembling the sounds in the show.

Topics covered include:

Sourcing, recording and editing sound effects
Sound Systems- Mixing Desks, Speakers, Effects
Basic Microphone use
Playback using QLab Software

The course will include a practical session where participants will work from a short section of script to produce and assemble a sound design sequence.

People who attend the Technology and the Stage course often progress to the one week Introduction to Stage Management and Technical Theatre course and/or apply for the Bachelor in Stage Management and Technical Theatre.
While our intention is that all short courses take place in person at The Lir Academy; the health and safety of our staff and short course students is always our main priority. Due to ongoing Covid-19 restrictions, delivering short courses in person is not always possible.
Please note that this course will not take place should the regulations relating to Covid-19 not permit in-person teaching. The Lir Academy will provide refunds for any places booked that are affected by this.
Otherwise, the standard course cancellation policy (see more below) will be in effect.

TERMS & CONDITIONS click to
ALL COURSES ARE NON-REFUNDABLE AND NON-TRANSFERRABLE. Please see our Covid-related policy below.

All courses must be paid in full in advance with The Lir Academy, unless otherwise agreed in writing that a payment instalment plan has been approved.

We can only accept bookings from participants over the age of 18 years. Participants under the age of 18 wishing to book onto any of our youth programmes must organise for a parent or guardian to book on their behalf.

Cancellation Policy
In the event of government restrictions preventing us from delivering a course in-person, we will move the course online or defer the start date to later in the year. Anyone who does not wish to participate in an online course, or participate in the course at a later date, will be offered a full refund.
We do not offer refunds, discounts or offers of deferred placement to any customer on the basis that they are concerned about exposing themselves to any risk of infection.
We are unable to offer any refunds, discounts or offers of deferred placement to short course customers on medical grounds (sick, injured, infection, in pain, lost voice etc.)
No refunds, discounts or offers of deferral will be given to customers based on financial difficulties.
No refunds, discounts or offers of deferral will be given to customers based on course dates no longer being suitable – unless the original advertised dates have been changed by The Lir Academy.
Unfortunately, we cannot offer refunds, discounts or deferred placement due to family bereavement.
No refunds, discounts or deferrals will be offered to any customer who misses classes on any of our short courses.
No refunds, discounts or deferrals will be offered to any customer who booked the wrong course or who decides, once it has begun, that they do not wish to complete the course.

Covid Health & Safety Policy
The health & safety of our staff and participants is of utmost importance – and The Lir Academy ensures that all live workshops take place in studios where the strictest health and safety guidelines are adhered to and live training will only resume when it is safe to do so.
All participants must adhere to the strict health & safety procedures when inside The Lir Academy. Details of these procedures will be sent to all course participants before arriving at The Lir Academy to start their course.
The Lir Academy reserves the right to refuse entry to any person who is not wearing suitable PPE.
Rescheduling Dates
In the event of a course being postponed/rescheduled by The Lir Academy, we will notify all participants in writing at the earliest possible time. Should the new dates / times not suit the participant, a full refund or deferred place will be offered.

The Lir Academy reserves the right to change the tutor team on any course at any stage of its duration.

Gifting Courses to friends / family - Please note that no exceptions will be made to our standard cancellation policy for customers who have purchased courses for a friend or family member, who end up being unable or uninterested in attending the course. Please contact info@thelir.ie if you would like to hear more about our Gift Vouchers.

Code of Conduct - The Lir Academy prides itself on providing all our staff, students and course participants with a vibrant, dynamic and safe working environment. As an Academy, we are committed to welcoming an inclusive & diverse range of people into our organisation – and we welcome all persons regardless of gender, ethnicity, sexual orientation, religion, civil or family status, age, disability or race. The academy operates a zero-tolerance policy regarding bullying & harassment of any nature, and will expel without refund, any person(s) found to be engaged in bullying or anti-social behaviour of any kind.

A comprehensive listing of all Lir Academy policies is available here - https://thelir.ie/policies
Insurance click to
It is strongly recommended that all participants insure themselves to cover the loss of fees in the event of illness, for which The Lir Academy cannot accept any liability.
"
" "Very enjoyable experience with excellent tutors, well equipped and comfortable facilities and a good mix of lecture style v's practical hand on activities . Class size was not too big which allowed more opportunity for individual interaction and asking questions. I would recommend it to anyone interested in or just starting out on the "technical" side of theatre who is looking for a good introduction to the tools and methods involved."
Tom