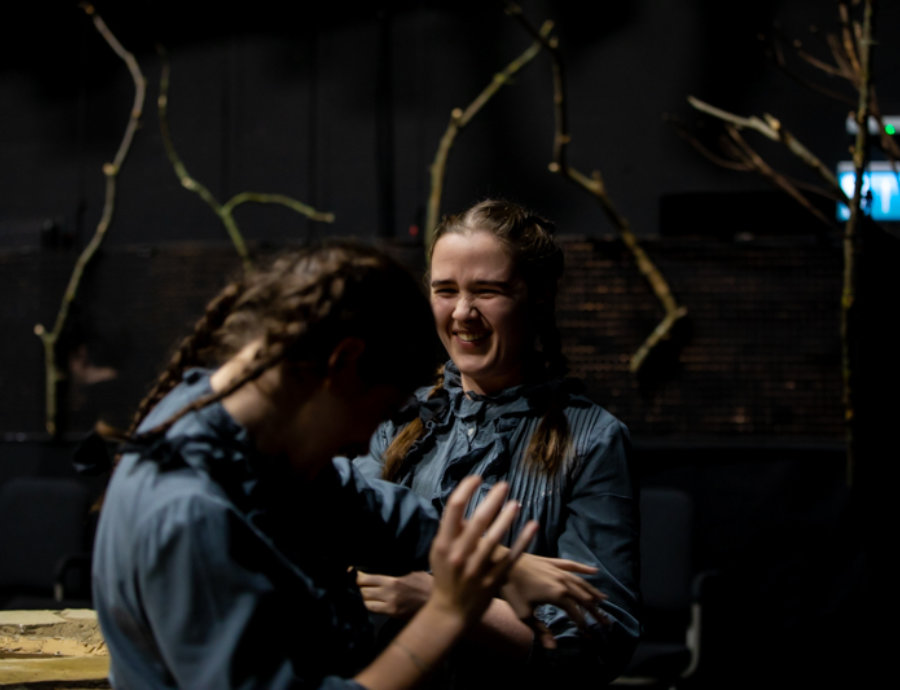 Short Courses / Acting
Junior Academy
10.00am - 4.30pm
Course Information
Course Begins:
Sat 11 Sep 2021
Type:
Beginners
Duration:
10.00am - 4.30pm
Ages:
15-17
Questions?
If you have any further questions, enquire and we'll contact you.
Overview
The Junior Academy is a tailored programme in acting for talented students aged 15– 17.
Taught by leading professionals, many of whom also teach on the Foundation Diploma in Acting and Theatre and the Bachelor in Acting undergraduate courses at The Lir Academy, the Junior Academy will provide practical experience in Voice (projection, breathing techniques, dialect etc), Acting and Movement, the three cornerstones of conservatoire training and will ultimately provide a platform for further training in acting, theatre or drama.
This intensive course will allow students to develop skills in acting, self confidence, improvisation, listening and taking direction.
Junior Academy is ideal for any teenager who has a passion for all things theatre related and is interested in developing this passion into further training and/or a career.
A limited number of places are available on this programme in order to ensure that each student receives the maximum individual attention.
The course curriculum includes training in voice, movement, dialect, acting, ensemble work, Stanislavski's system and will culminate in a live performance open to family and friends of the participants.
The cost of this course is 2,700euro and can be paid for in instalments.

There are a limited number of bursaries available for Junior Academy which can be applied for once a place has been offered.

Students who take the Junior Academy course often progress to the Young Actors' Programme and apply to the Foundation Diploma in Acting and Theatre as well as the Bachelor in Acting degree.


APPLICATION PROCESS NOW OPEN FOR SEPTEMBER 2021 START.
Please note that due to current Covid regulations, we will require short course attendees to present their EU COVID Digital Certificate (DCC) or HSE vaccination record. We also require photo identification. If you do not have a DCC or HSE vaccination record (because you are visiting Ireland from another country for example), you can use an official vaccination record issued by the country where you were vaccinated or tested for COVID-19.
Please be advised that patrons who cannot fulfil this requirement will be asked to step down from the course at this time and join us for a course after the regulations are eased on October 22nd.

Application Requirements and Procedure click to
Requirements
Fluency in the English language is essential.
A commitment to punctuality, discipline and preparation is required from every participant.
Information on what to wear etc. will be sent to successful applicants once they have been accepted onto the course.
Procedure:
All eligible candidates who apply before the closing date will receive an audition.

Each candidate is asked to prepare ONE monologue for a group audition.
You need to prepare ONE monologue of NO LONGER THAN THREE MINUTES. Your monologue can be either:
A CLASSICAL monologue by SHAKESPEARE (or another Elizabethan/Jacobean playwright).
Or a monologue from a CONTEMPORARY play, ie a play written in the last 50 years.
You must memorize the monologue and be comfortable in performing it without a script.
During the half day audition workshop each candidate will work on their monologue as part of a group audition.
Equality and Diversity
A candidate should feel free to disclose impairment at any time during the audition process if they have not done so on their application form. Applicants with disabilities or impairments who demonstrate talent and potential will be put forward to the next stage of the audition process by the panel members, who will not concern themselves with the implications the disability may have on subsequent training. The panel will be informed of any disclosed disability on a candidate's application form unless the candidate has asked for the disability to be kept confidential.
Apply to Junior Academy Here click to
Term Dates for 2021/22 click to
Term 1 Dates:
Saturday 9th September to Saturday 11th December, 2021
Midterm 30th October (no class on this date)
Term 2 Dates:
Saturday 15th January to Saturday 9th April, 2022 (no class on 26th Feb)
Showing Rehearsal Dates:

14th April - 22nd April, 2022
Performance:
23rd April, 2022
Students will have to be free to attend the rehearsal week in order to take part in the production.
Insurance click to
It is strongly recommended that all participants insure themselves to cover the loss of fees in the event of illness, for which The Lir Academy cannot accept any liability.
TERMS & CONDITIONS click to
ALL COURSES ARE NON-REFUNDABLE AND NON-TRANSFERRABLE. Please see our Covid-related policy below.

All courses must be paid in full in advance with The Lir Academy, unless otherwise agreed in writing that a payment instalment plan has been approved.

We can only accept bookings from participants over the age of 18 years. Participants under the age of 18 wishing to book onto any of our youth programmes must organise for a parent or guardian to book on their behalf.

Cancellation Policy
In the event of government restrictions preventing us from delivering a course in-person, we will move the course online or defer the start date to later in the year. Anyone who does not wish to participate in an online course, or participate in the course at a later date, will be offered a full refund.
We do not offer refunds, discounts or offers of deferred placement to any customer on the basis that they are concerned about exposing themselves to any risk of infection.
We are unable to offer any refunds, discounts or offers of deferred placement to short course customers on medical grounds (sick, injured, infection, in pain, lost voice etc.)
No refunds, discounts or offers of deferral will be given to customers based on financial difficulties.
No refunds, discounts or offers of deferral will be given to customers based on course dates no longer being suitable – unless the original advertised dates have been changed by The Lir Academy.
Unfortunately, we cannot offer refunds, discounts or deferred placement due to family bereavement.
No refunds, discounts or deferrals will be offered to any customer who misses classes on any of our short courses.
No refunds, discounts or deferrals will be offered to any customer who booked the wrong course or who decides, once it has begun, that they do not wish to complete the course.

Covid Health & Safety Policy
The health & safety of our staff and participants is of utmost importance – and The Lir Academy ensures that all live workshops take place in studios where the strictest health and safety guidelines are adhered to and live training will only resume when it is safe to do so.
All participants must adhere to the strict health & safety procedures when inside The Lir Academy. Details of these procedures will be sent to all course participants before arriving at The Lir Academy to start their course.
The Lir Academy reserves the right to refuse entry to any person who is not wearing suitable PPE.
Rescheduling Dates
In the event of a course being postponed/rescheduled by The Lir Academy, we will notify all participants in writing at the earliest possible time. Should the new dates / times not suit the participant, a full refund or deferred place will be offered.

The Lir Academy reserves the right to change the tutor team on any course at any stage of its duration.

Gifting Courses to friends / family - Please note that no exceptions will be made to our standard cancellation policy for customers who have purchased courses for a friend or family member, who end up being unable or uninterested in attending the course. Please contact info@thelir.ie if you would like to hear more about our Gift Vouchers.

Code of Conduct - The Lir Academy prides itself on providing all our staff, students and course participants with a vibrant, dynamic and safe working environment. As an Academy, we are committed to welcoming an inclusive & diverse range of people into our organisation – and we welcome all persons regardless of gender, ethnicity, sexual orientation, religion, civil or family status, age, disability or race. The academy operates a zero-tolerance policy regarding bullying & harassment of any nature, and will expel without refund, any person(s) found to be engaged in bullying or anti-social behaviour of any kind.

A comprehensive listing of all Lir Academy policies is available here - https://thelir.ie/policies