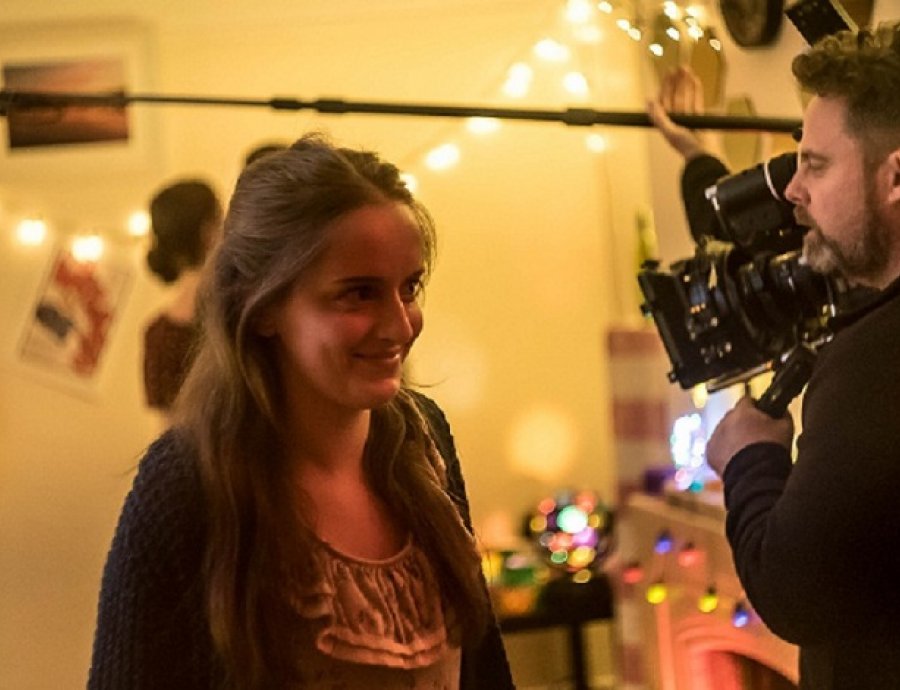 Short Courses / Acting
Introduction to Screen Acting
10 weeks / 1 evening p/w / 7.00pm - 9.30pm
This practical ten week course introduces students to the processes involved in successful screen acting and developing confidence in front of the camera. See more details and our Covid-19 protocol below.
Course Information
Course Begins:
Mon 20 Sep 2021
Type:
Beginners
Duration:
10 weeks, 1 evening p/w, 7.00pm - 9.30pm
When:
Evenings
Ages:
18+
Questions?
If you have any further questions, enquire and we'll contact you.
Overview
Participants will learn the differences between what is effective on stage versus the demands of the screen. As well as developing strategies for meeting the demands of screen acting, students will become more familiar with the filming process, acting for camera, the equipment and roles of the crew members including the terminology used.

The course will allow each participant to experience the fundamentals of screen acting technique, such as hitting marks, staying in your light, finding the light in a tracking shot, working with sound crew and continuity as well as dispelling some of the myths surrounding the process of screen acting.

The course will begin with camera-based classes that are designed to show students how the camera can aid a performance rather than hinder it.

Suitable for aspiring actors who are interested in screen acting, film acting and acting for beginners classes.
Please note that due to current Covid regulations, we will require short course attendees to present their EU COVID Digital Certificate (DCC) or HSE vaccination record. We also require photo identification. If you do not have a DCC or HSE vaccination record (because you are visiting Ireland from another country for example), you can use an official vaccination record issued by the country where you were vaccinated or tested for COVID-19.
Please be advised that patrons who cannot fulfil this requirement will be asked to step down from the course at this time and join us for a course after the regulations are eased on October 22nd.
While our intention is that all short courses take place in person at The Lir Academy; the health and safety of our staff and short course students is always our main priority. Due to ongoing Covid-19 restrictions, delivering short courses in person is not always possible and in these circumstances, short courses may be delivered online via Zoom if the course material is suitable for adaptation.

Please note that in general, our Cancellation Policy is that no refunds or offers of deferral will be issued in the event of any short course moving online due to Covid-19 restrictions.
Terms and Conditions click to
ALL COURSES ARE NON-REFUNDABLE AND NON-TRANSFERRABLE. Please see our Covid-related policy below.



All courses must be paid in full in advance with The Lir Academy, unless otherwise agreed in writing that a payment instalment plan has been approved.



We can only accept bookings from participants over the age of 18 years. Participants under the age of 18 wishing to book onto any of our youth programmes must organise for a parent or guardian to book on their behalf.



Cancellation Policy

In the event of government restrictions preventing us from delivering a course in-person, we will move the course online or defer the start date to later in the year. Anyone who does not wish to participate in an online course, or participate in the course at a later date, will be offered a full refund.

We do not offer refunds, discounts or offers of deferred placement to any customer on the basis that they are concerned about exposing themselves to any risk of infection.

We are unable to offer any refunds, discounts or offers of deferred placement to short course customers on medical grounds (sick, injured, infection, in pain, lost voice etc.)

No refunds, discounts or offers of deferral will be given to customers based on financial difficulties.

No refunds, discounts or offers of deferral will be given to customers based on course dates no longer being suitable – unless the original advertised dates have been changed by The Lir Academy.

Unfortunately, we cannot offer refunds, discounts or deferred placement due to family bereavement.

No refunds, discounts or deferrals will be offered to any customer who misses classes on any of our short courses.

No refunds, discounts or deferrals will be offered to any customer who booked the wrong course or who decides, once it has begun, that they do not wish to complete the course.



Covid Health & Safety Policy

The health & safety of our staff and participants is of utmost importance – and The Lir Academy ensures that all live workshops take place in studios where the strictest health and safety guidelines are adhered to and live training will only resume when it is safe to do so.

All participants must adhere to the strict health & safety procedures when inside The Lir Academy. Details of these procedures will be sent to all course participants before arriving at The Lir Academy to start their course.

The Lir Academy reserves the right to refuse entry to any person who is not wearing suitable PPE



Rescheduling Dates
In the event of a course being postponed/rescheduled by The Lir Academy, we will notify all participants in writing at the earliest possible time. Should the new dates / times not suit the participant, a full refund or deferred place will be offered.

The Lir Academy reserves the right to change the tutor team on any course at any stage of its duration.

Gifting Courses to friends / family - Please note that no exceptions will be made to our standard cancellation policy for customers who have purchased courses for a friend or family member, who end up being unable or uninterested in attending the course. Please contact info@thelir.ie if you would like to hear more about our Gift Vouchers.

Code of Conduct - The Lir Academy prides itself on providing all our staff, students and course participants with a vibrant, dynamic and safe working environment. As an Academy, we are committed to welcoming an inclusive & diverse range of people into our organisation – and we welcome all persons regardless of gender, ethnicity, sexual orientation, religion, civil or family status, age, disability or race. The academy operates a zero-tolerance policy regarding bullying & harassment of any nature, and will expel without refund, any person(s) found to be engaged in bullying or anti-social behaviour of any kind.

A comprehensive listing of all Lir Academy policies is available here - https://thelir.ie/policies
Insurance click to
It is strongly recommended that all participants insure themselves to cover the loss of fees in the event of illness, for which The Lir Academy cannot accept any liability.
"
"I wasn't sure what to expect, coming from a theatre background. I was surprised with how much I learned about screen acting vs Theatre."
Jack