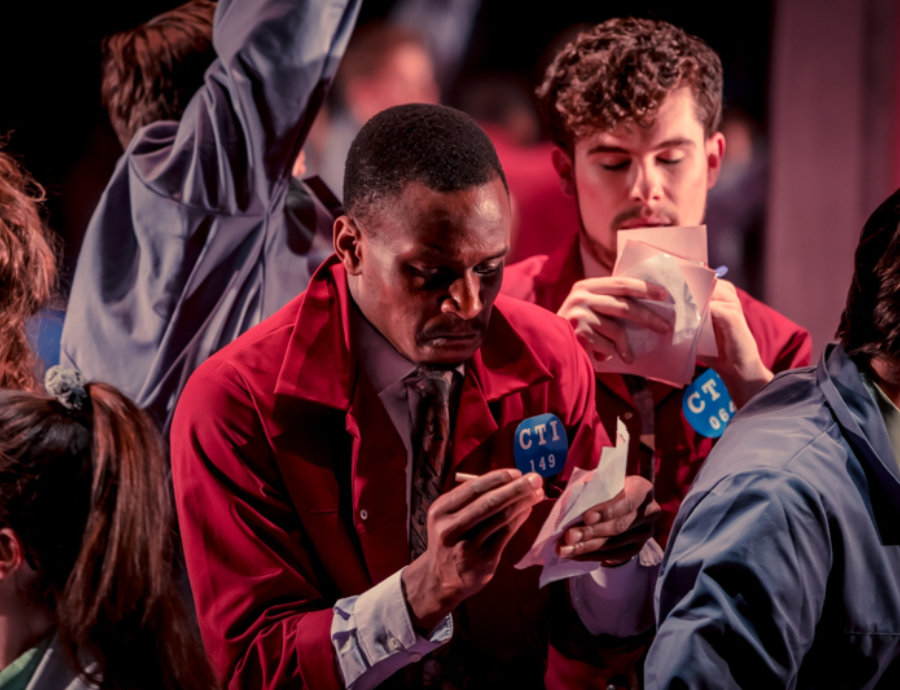 Short Courses / Voice
One-Day Dialect: American Accents Intensive
1 day / 10.00am - 5.00pm
This workshop is a one-day intensive for actors looking to develop accuracy in Contemporary American Accents: providing the actor with a system to explore the vocal shifts required to successfully perform with confidence in the accent. Scroll down for more information.
Course Information
Course Begins:
Sat 27 Nov 2021
Duration:
1 day, 10.00am - 5.00pm
Ages:
18+
Questions?
If you have any further questions, enquire and we'll contact you.
Overview
We will focus mainly on General American; but will also explore the accents of New York and the American Southern States. Over the course of the day, we will explore the key features of these accents and apply them to text.
Areas covered include:
Ear training and listening exercises, identifying a framework to analyse sounds.
Developing articulatory agility.
Oral posture and muscle patterns, analysing tongue, lip and jaw movement.
Sound placement and resonant focus.
Exploring key physical vowel and consonant changes; employing exercises to build muscle memory in the accent.
Study the accents rhythms, stresses, intonation patterns and tunes.
The course will be led by Gavin O'Donoghue, Dialect Coach at The Lir Academy as well as the Director of the Foundation Diploma in Acting & Theatre. Gavin has also taught classes at The Royal Central School of Speech & Drama, The Arts Educational School and The Royal Academy of Dramatic Art. His most recent theatre projects as Dialect Coach include Embargo (Fishamble/DTF), Solar Bones (Rough Magic/Kilkenny Arts Festival), A Christmas Carol, The Glass Menagerie, Assassins (The Gate Theatre), The Playboy of The Western World (Lyric Theatre Belfast/DTF), Venus in Fur (Rough Magic/SEEDS). He was Dialect Coach on the Oscar Nominated Short Film Drama Detainment (Twelve Media).He continues to coach actors privately working on productions across the theatre, film & television industry in Ireland and the UK. Gavin is a graduate of The Samuel Beckett Centre, Trinity College where he studied Drama and Theatre Studies prior to training as an Actor at The Webber Douglas Academy of Dramatic Art in London. He worked as an Actor in the Theatre and on Radio in the UK before studying on the MA in Voice Studies program at The Royal Central School of Speech and Drama.
Terms & Conditions click to
ALL COURSES ARE NON-REFUNDABLE AND NON-TRANSFERRABLE. Please see our Covid-related policy below.


All courses must be paid in full in advance with The Lir Academy, unless otherwise agreed in writing that a payment instalment plan has been approved.


We can only accept bookings from participants over the age of 18 years. Participants under the age of 18 wishing to book onto any of our youth programmes must organise for a parent or guardian to book on their behalf.



Cancellation Policy

In the event of government restrictions preventing us from delivering a course in-person, we will move the course online or defer the start date to later in the year. Anyone who does not wish to participate in an online course, or participate in the course at a later date, will be offered a full refund.

We do not offer refunds, discounts or offers of deferred placement to any customer on the basis that they are concerned about exposing themselves to any risk of infection.

We are unable to offer any refunds, discounts or offers of deferred placement to short course customers on medical grounds (sick, injured, infection, in pain, lost voice etc.)

No refunds, discounts or offers of deferral will be given to customers based on financial difficulties.

No refunds, discounts or offers of deferral will be given to customers based on course dates no longer being suitable – unless the original advertised dates have been changed by The Lir Academy.

Unfortunately, we cannot offer refunds, discounts or deferred placement due to family bereavement.

No refunds, discounts or deferrals will be offered to any customer who misses classes on any of our short courses.

No refunds, discounts or deferrals will be offered to any customer who booked the wrong course or who decides, once it has begun, that they do not wish to complete the course



Covid Health & Safety Policy

The health & safety of our staff and participants is of utmost importance – and The Lir Academy ensures that all live workshops take place in studios where the strictest health and safety guidelines are adhered to and live training will only resume when it is safe to do so.

All participants must adhere to the strict health & safety procedures when inside The Lir Academy. Details of these procedures will be sent to all course participants before arriving at The Lir Academy to start their course.

The Lir Academy reserves the right to refuse entry to any person who is not wearing suitable PPE



Rescheduling Dates
In the event of a course being postponed/rescheduled by The Lir Academy, we will notify all participants in writing at the earliest possible time. Should the new dates / times not suit the participant, a full refund or deferred place will be offered.

The Lir Academy reserves the right to change the tutor team on any course at any stage of its duration.

Gifting Courses to friends / family - Please note that no exceptions will be made to our standard cancellation policy for customers who have purchased courses for a friend or family member, who end up being unable or uninterested in attending the course. Please contact info@thelir.ie if you would like to hear more about our Gift Vouchers.

Code of Conduct - The Lir Academy prides itself on providing all our staff, students and course participants with a vibrant, dynamic and safe working environment. As an Academy, we are committed to welcoming an inclusive & diverse range of people into our organisation – and we welcome all persons regardless of gender, ethnicity, sexual orientation, religion, civil or family status, age, disability or race. The academy operates a zero-tolerance policy regarding bullying & harassment of any nature, and will expel without refund, any person(s) found to be engaged in bullying or anti-social behaviour of any kind.
A comprehensive listing of all Lir Academy policies is available here - https://thelir.ie/policies